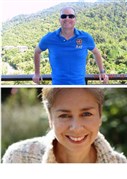 georgina matthews-la

Expires
Sunday, 3 March 2013
Georgina Matthews-Lane
In the last month, two very special people in my life, Steve Le Duc and Jackie Orme, have passed away due to cancer. Both were full of life, enthusiastic, generous, positive, ambitious and caring people, much loved by their family and friends. And it is a tragedy that their lives were shortened by this disease.
So I would like to raise funds for a much needed cancer charity, the Cancer Council, and am taking part in the Sydney Running Festival 2012.
So in a few week time, in September, I'm going to be sweating it out and doing my best over a 9 km course running over the Sydney Harbour Bridge, around Sydney's CBD and finishing at the Opera House steps.
I am honoured to be a part of this race on their behalf and hope to help a great cause, and I'd really appreciate any support you can give in this endeavour.
All donations you give go directly to charity, so if possible please help and click on "DONATE NOW".
Thank you for your support.
Georgina Matthews-Lane

Cancer Council NSW
The Cancer Council NSW is an independent cancer charity funded entirely by the community. The Cancer Council speaks out on cancer issues, funds research to find better treatments and earlier detection, provides support for cancer patients and their families and runs prevention campaigns to help people reduce their cancer risk. Visit www.cancercouncil.com.au for more information
FUNDOMETER
Target
$500
Raised So Far
$5,270
Biggest Supporters:
TT Club: $750.00
DP World Ltd: $500.00