SHIRLEY DIECKMANN

Expires
Monday, 15 July 2013
Shirl for Shakes

Hi. John and I have just had the wonderful experience of going to the Parkinsons Australia conference. At the time of John's diagnosis with Parkinsons Disease , we accepted that there is no cure. After this conference, and particularly after hearing Clyde Campbell,( the founder of the Shake it up Foundation ) talk, we have changed this attitude to "there is no cure, AS YET! ". We were inspired to hear of so much good work going on towards finding this cure. It would be amazing if this could be soon and help John. However even if this does not happen in the short term, we would really like to be able to make a difference to those who will be diagnosed in the future...knowing that this could touch any of our family members, young ( 10% newly diagnosed are in their 20's or 30's) or old.....and indeed any family, including yours. We felt the best way to do this was to work with the Shake it Up foundation which works with the Michael J Fox foundation but with all funds raised going directly to research in Australia.
Last year John and I headed to Sydney for the Running Festival. I, as usual, was doing my crazy distance running and John was going through a fairly good time and so entered the 4km run. He made it in a good time....courtesy of the Irish. When I got out of bed on the morning of the race it was to discover that John had not slept a wink...the Irish had beaten us at the Rugby!!!!!
He rejected my suggestions that he should sleep instead of running....and ran the whole way saying "those jolly (or words to that effect) Irish. This year he is not well enough to run but will be there being my wonderful support person as he always is and hopefully helping Team Fox as well.
(Shake it Up has some further data available below)
We would really appreciate your joining us in supporting this cause by sponsoring me for this run...the Half Marathon.
Contact us if you would like to know anything further John and Shirley
Shake It Up Australia Foundation
Shake It Up Australia has a clear mission: To find the cure for Parkinson's
There are an estimated 70,000 Australians living with Parkinson's with another 32 diagnosed every day. 20% of those diagnosed are under 50 years old. With your help we can change this!

Shake It Up has partnered with the Michael J. Fox Foundation for Parkinson's Research to fund world's best research in Australia targeted at finding better treatments and ultimately a cure.
100% OF YOUR DONATION GOES DIRECTLY TO RESEARCH.  THAT'S RIGHT 100%!  Our founding directors cover all general expenses of the Foundation ensuring every cent of your donation makes a real difference in the quest to find a cure for Parkinson's.
 
About Shake It Up
Shake It Up Australia Foundation is a not-for-profit organisation established in 2011 to promote and fund Parkinson's disease research in Australia.

The Foundation was established by Clyde Campbell, a father of three and business owner who was diagnosed with Parkinson's disease in 2009 at the age of 44.

Clyde set out to find out as much as he could about the disease and determine what he could do in a practical sense to assist. His search led him to the Michael J Fox Foundation for Parkinson's Research (MJFF) in the United States and the remarkable work they do to fund medical research targeted at finding better treatments on the path to a cure for Parkinson's disease.

The approach MJFF take to assessing, funding and project managing world's best research all over the globe eliminates redundancy, ensures efficiency and unites the global community in the quest to find a cure.

Clyde realised that funding Parkinson's research was the best thing that he could do to help himself, his family and the 100,000 other Australians living with the disease. With that clear in his mind Clyde founded Shake It Up Australia Foundation (SIUAF) to give other Australians the opportunity to join his quest.

How you can join the fight to cure Parkinson's
The research we are funding comes at a cost and we need people committed to making a world without Parkinson's disease a reality to join our fight.
Some ways you can contribute include:
•    Donate to research now
•    Run an event for Shake It Up
•    Participate in an event and encourage others to sponsor you
•    Become a project partner
•    Become a corporate partner
•    Become an ambassador
•    Volunteer
•    Subscribe to our newsletter
•    Register for clinical trials
To learn more about how you can be a part of the answer please go to our website and get involved.
FUNDOMETER
Target
$750
Raised So Far
$8,020
Target
$70,000
Raised So Far
$63,269
Team member of Let's Shake It Up Team Fox Australia for Parkinson's Research
View
My Total: $8,020
Team Total: $63,269

Do you want to help us make a difference in 2012?
Shake It Up and Team Fox Australia
are recruiting participants to be part of this year's Sydney Running Festival to help us raise much needed funds for Parkinson's research here in Australia. From serious runners to joggers and walkers – there is an event for everyone's ability level, so get amongst it and register today!
After taking out the highest Individual and Team Fundraising awards last year the team is back and ready for the challenge.
Join us on Sunday 16th September 2012 as we sweat it out, walking, running and jogging over the Harbour Bridge, around Sydney's CBD and finishing at the Opera House steps. Be part of this amazing team, and a part of this amazing race to help a great cause - get amongst it!!
ALL donations you give go directly to Australian Research in our quest to find a cure for Parkinson's so click on DONATE NOW!
Thank you for your support and for helping make a difference to the 100,000 Australian's with Parkinson's - let's Shake It Up Australia!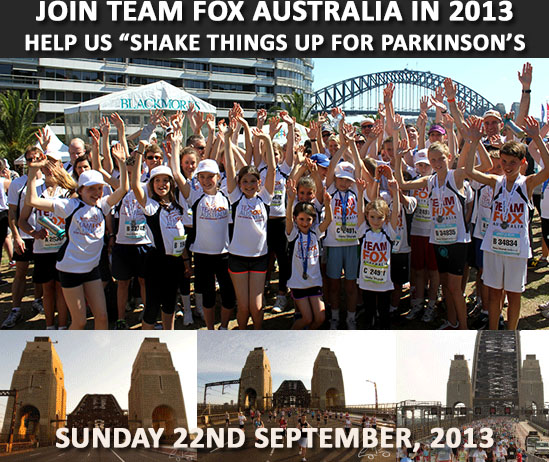 We are here to help so don't forget to call us on 1300 361 803 or email us at carolyn@shakeitup.org.au if you need any help with your registration or fundraising.
SHIRLEY DIECKMANN reached his target of $750.00 and qualified for a $750.00 rebate but chose to leave it with Shake It Up Australia Foundation to help make a difference.
Biggest Supporters:
Anonymous: $500.00
Shirley Dieckmann: $480.00